For almost three decades, resource efficiency has been a widely recognised approach for industries aiming to improve production while minimising pollution and the generation of waste. Par excellence, Resource Efficient and Cleaner Production (RECP) is a methodology based on practical environmental strategies that help processes, products, and services be more efficient and reduce risks to humans and the environment. Hence, RECP helps industries develop and implement sustainability strategies based on their production, capacity, and individual needs.
This is particularly evocative in the case of Small and Medium-Sized Enterprises (SMEs), where even the smallest RECP measure can yield incremental benefits. In this sense, July was an important month for RECP as, under EU4Environment, the UNIDO team took stock of the progress and ongoing activities related to resource efficiency and Circular Economy in Moldova.
Between 10-14 July 2023, a field UNIDO mission was organized to Chișinău and neighbouring city Nimoreni to engage with national stakeholders (representatives from the Ministry of Environment, the Ministry of Economic Development and Digitalization, the Covenant of Mayors Moldova, and the Chamber of Commerce and Industry), and UNIDO strategic partners and experts (the Organization for Entrepreneurship Development (ODA), Industrial Parks and RECP experts, and selected Small and Medium-Sized Companies (SMEs)).
Whilst the engagement with the experts revealed that the reception of RECP has been overall positive, it also recorded varied results (with some companies showing strong interest and will to adopt RECP measures, while others requiring more support, engagement, and demonstrations). Here, it was important to note the salience of developing trust before data gathering. This is of great importance in Moldova's current political and economic landscape, as industries are prioritizing economic indicators. Concise communication and targeted training are also required on the part of the RECP experts, as most SMEs can only invest limited resources in the RECP assessments. Some companies also have unique needs and requests (particularly in the food industry), which may require tailored approaches and access to various information sources during the assessments. As a proposed solution, the RECP indicators, could be amended to better identify the needs of companies and lead the formulation of the RECP action plans. A specialized training programme on RECP could also be developed (together with local or national authorities) to help the experts gain knowledge on a continuous basis and to boost confidence. Such a programme could cover in more detail the means to conduct an RECP assessment and develop the associated action plan, persuasion and communication strategies to better engage with the industry and manufacturing sectors, and tools for a targeted and transparent data collection system. Even though these are already available with specific examples (as a part of the EaP GREEN 2012-2017 and EU4Environment 2018-2024 programmes ), they need to be further institutionalized using the national SMEs support mechanisms.
On Monday, 10 July, the discussion with the Ministry of Environment representatives showcased how actively involved the Ministry is in tackling various aspects of environmental concern: waste management, environmental regulations, and environmental taxation. Here, it was worth noting the normative and legislative efforts (such as the National Waste Management Strategy 2013-2027, and the National Development Strategy for 2030) that oversee rules and standards on waste generation and management, as well as the introduction of green growth indicators related to recycling and environmentally friendly labelling. While challenges are being addressed (like maintaining the institutional setup and retaining qualified personnel), the Ministry of Environment is focused on improving capacity-building initiatives and cooperation to sustain RECP initiatives beyond the completion of the EU4Environment programme.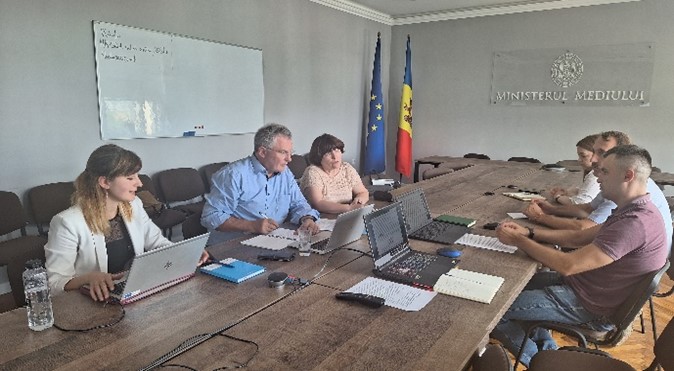 The same impetus was echoed on 12 July by the members of the Organization for Entrepreneurship Development (ODA), which works on supporting SMEs, promoting eco-innovation, and facilitating environmentally sustainable practices. Working to build a greener and more sustainable business environment in Moldova, ODA also faces some challenges related to bureaucracy, risk perception, and confidence in state institutions.
Currently, the Organization offers free specialized training for companies to learn about the correct management of water resources, waste management, circular economy, resource efficiency, and green growth, based on which they can apply for individual grants (up to 500,000 MDL equivalent to cca. 26,000 EUR). So far, over 120 SMEs have been added to the pipeline for the next training. Companies also expressed the need for practical knowledge, an aspect which could be improved by partnering with an accredited institutional body from the Technical University of Moldova or alike. In this sense, ODA also plans to take advantage of the professionals already trained in resource efficiency, such as the RECP experts trained by UNIDO, who could be further recognized and promoted through ODA channels.
The need for specialised experts was also discussed during the meeting with the State Secretary of the Ministry of Economic Development and Digitalization. Here, the core question was how to prepare experts who can effectively work with businesses and keep them highly skilled and motivated. This is because sector-specific knowledge is not always readily transferable, and experts need to be connected to relevant networks (such as a potential RECP expert network in Moldova), trainings, and events. Communication with SMEs should also be more concise and targeted, providing practical examples and success stories that could convince businesses (particularly the new ones) to invest in the application of RECP. A relevant proposal in this respect would be the creation of a vivid platform for existing RECP experts and the identification of new partners to promote technology demonstration and green financing. In the case of the latter, the Ministry could potentially provide the institutional framework to drive such sustainability initiative forward.
A new collaboration could also be established with the Covenant of Mayor's (CoM) office in Moldova. Here, the signatories cover 50% of the national population in Moldova and work on supporting municipalities in direct projects such as efficient district heating, the introduction of LED lights, and cooperation between municipalities and companies. In this sense, municipal enterprises have their own specific legal form which allows them to function as private companies. This is particularly relevant in issues such as water and wastewater treatment, as both are becoming increasingly expensive and burdensome. A collaboration between UNIDO and CoM could be of specific interest in the completion of activities within the RECP Clubs in Moldova. A match-making event was organized to bring companies and signatory municipalities together to exchange needs and opportunities in a  in spring 2023. Here, the focus was on supporting RECP Clubs in the country, and on discussing the implementation of energy efficiency policies by the Moldovan municipalities.
The Chamber of Commerce and Industry (CCI) also expressed a similar view during the bilateral meeting with the UNIDO Senior Technical Advisor. Here, the importance of collaboration was further emphasized, as enterprises in Moldova have experienced major difficulties in the last four years due to the increase in prices (amongst others). To support the industry sector, the CCI completed exhibitions and workshops on energy efficiency and Circular Economy, as well as vocational training sessions. So far, it trained over 2,000 individuals in dual education models, and, inter alia, presented the topics of eco-efficiency and RECP as a UNIDO national partner under the EU-funded EaP GREEN programme in 2015-2017.
The mission culminated with an in-person event on 14 July, bringing together members from the RECP training and coaching programme under EU4Environment, representatives from the EBRD EU4Business programme, members of the Ministry of Economic Development and Digitalization, the Ministry of Environment, and ODA, alongside members from UNIDO and other experts.
The event focused on RECP and cooperation among the programmes. Over 20 participants discussed challenges, barriers, and opportunities for SMEs to access financing and RECP instruments in becoming more efficient. After summarizing relevant experiences, the discussion moved to a World Cafe format where condensed observations, experiences, and suggestions were shared and examined. Within it, the participants were able to explore a topical issue by discussing it in small table groups which changed across multiple rounds of 20-30 minutes.
In a nutshell, the event's main outcome proved that the future of the SMEs greening programmes relies on exchanging experiences and exploring the potential for using synergies. Approaches should also be better targeted (e.g., micro enterprises currently operate in survival mode and need input to improve their economic situation). Compared to them, medium-sized enterprises would welcome staff training and information on new technologies to upgrade production and access new markets, whereas large companies seek to benefit from digitalisation, automatization, and exposure to international trends to support growth in international markets.