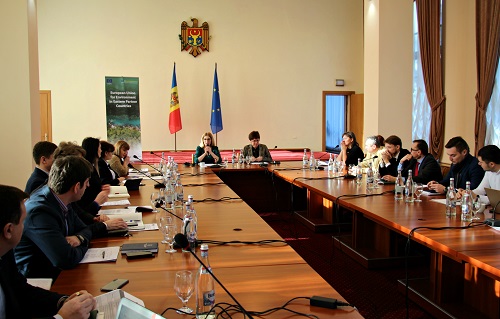 The meeting of the Inter-ministerial Working Group on the promotion of Sustainable Development and Green Economy/National Implementation Committee (NIC) for EU4Environment in the Republic of Moldova took place on 14 February 2020, as part of green economy ownership, policy coherence and cross-sectorial coordination boosted, implemented by UNEP.
The Working Group/NIC approved the information on the implementation of the EU4Environment in Moldova for the year 2019 and report on specific actions which took place in the Quarter 4, 2019. It was appreciated that a number of relevant actions from EU4Environment were included in the Plan of Actions of the Government for 2020-2023 and in the Action Plans of the involved ministries/governmental agencies.
The Members of the Working Group approved the plans of actions within the sub-components of EU4Environment for 2020, developed by the Implementing Patners and involved national institutions and provided specific comments on their implementation.
 Main objectives of the meeting of the First WG/NIC meeting in 2020:
Presentation of the information about the start of implementation of EU4Environment in Moldova in the last Quarter of 2019;
Detailed presentation of plans/activities under EU4Environment sub-components by implementing partner/implementing organizations for 2020;
Organisation of the process of implementation of the Program on the promotion of Green economy for 2018-2020 and of the EU4 Environment country work plan in partnership with the implementing partners for 2020;
Ensure synergy with other projects/actions under implementation and informing development partners about the possibilities and needs within the implementation of the EU4 Environment in the Republic of Moldova;
Other discussion issues.
Participants included:
members of the WG on SD and GE/NIC of EU4Environment in Moldova;
representatives of governmental agencies;
Ministry of Economy and Infrastructure;
Ministry of Agriculture, Regional Development and Environment;
Public Procurement Agency;
academic sector, environmental NGOs; and
representatives of Implementing partners.